You are probably here because your hair is thinning at an alarming rate or you are losing a whole lot of it. Of course, this can be very upsetting and not knowing the cause makes it even worse.
It is also possible that you may have tried different hair treatments and supplements to no avail – we feel your pain.
In that regard, we may have some good news for you in the form of a hair supplement known as HairPrin.
This particular product claims to tackle the cause of your hair loss and promote the regrowth of healthy and strong hair.
We know you have probably heard this one too many times but before you disregard HairPrin, you may want to read about our honest opinion about it.
Quick Facts
Product: HairPrin
Manufacturer: Approved Science LLC
Country: Made in USA
Best Price: See on Amazon
HairPrin Review: A Quick Overview
HairPrin is a hair growth supplement that comes in capsule form and is available on its official website as well as ecommerce platforms such as Amazon.
Whether you are a man or woman, this product is exclusively designed to unblock your hair follicles, enhance your hair growth, and prevent hair loss.
However, this supplement is quite costly if you ask us as it goes for $50 per bottle. If you are looking for a cheaper option that delivers similar (or even better) results, you may want to consider Folexin, which goes for $25 and $18 if you purchase in bulk.
Read our full review of Folexin >here<.
How HairPrin Works
If taken correctly, HairPrin can actually affect your hair growth positively. How so? Well, it comprises several ingredients that are known to promote hair growth and at the same time inhibit loss.
One thing that stood out about this supplement is that it contains Saw Palmetto. But that is just an ingredient like any other right? Not quite, because Saw Palmetto is commonly used to combat a broad range of health problems including hair loss.
Of course, that is not the only ingredient you will find in this product because it does contain many more ingredients that work together to unclog hair follicles, stimulate hair growth, and prevent hair loss.
The manufacturer of HairPrin does claim that the supplement enhances rapid growth of hair but it would be wise to be a bit skeptical of whether it will deliver results that fast.
Sure, the product can help reduce hair thinning and hair loss – but thinking that it can do that overnight would be stretching things too far don't you think?
What it Includes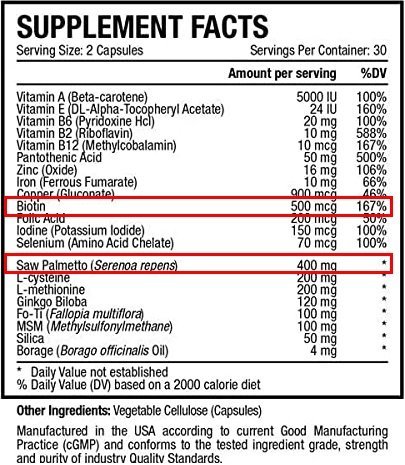 HairPrin is fortified with an array of minerals and vitamins so let us take a closer look at them.
When we talk about vitamins in this supplement, we are talking about vitamin A, which is a recognized antioxidant that will work to protect your skin cells and hair follicles from damage all while stimulating healthy hair growth.
Do not even get us started on vitamin E and its benefits for your hair because it is also a component of this hair supplement. Talk about supplying your hair follicles and scalp with nutrients and oxygenated blood.
This particular vitamin also has antioxidant properties to repair damaged hair and generally enhance the health of your hair.
To cap it all when it comes to vitamins, HairPrin contains vitamin B Complex to tackle vitamin deficiency that causes hair loss.
Now, to other ingredients…
HairPrin also contains Pantothenic Acid and what this does is to diminish natural hair loss and strengthen your hair follicles.
That is not all, there is also the presence of Iron and Zinc with Iron facilitating the supply of blood to hair follicles to promote hair growth and the latter promoting oil gland health and combating hair loss.
You will also appreciate the presence of copper in HairPrin because it increases nutrient and blood supply to your hair follicles. This reestablishes the follicles and in turn reduces hair thinning and promotes hair growth.
Biotin is another ingredient that is active in this supplement. It's thought to work by boosting Keratin levels as well as preventing breakage and increasing hair elasticity.
More HairPrin Ingredients Include:
To boost cell growth in your hair follicles and scalp. It also improves the health of red blood cells for efficient nutrient supply.
This micronutrient is vital for your general wellbeing and stimulates the thyroid gland to produce the hormones responsible for hair growth. A deficiency in Iodine can actually cause hair loss and hair thinning so you see why this ingredient is vital.
In this ingredient, there are antioxidants that prevent damage caused by free radicals to hair follicles. Selenium works in collaboration with Zinc to stimulate hair growth.
Known as a DHT inhibitor. This herb prevents hair loss and may combat a few other health issues. So, if you think your hair loss is due to hormonal change e.g. if you're aged 30 and above, this is a good ingredient to have.
This amino acid is sulfur based and makes up 10% of your mane. It also helps in boosting Keratin levels and promoting faster hair growth.
Another sulfur-based essential amino acid with powerful antioxidant properties. It increases blood flow to the scalp for faster and healthier hair regrowth.
This herb is common in many hair supplements and contains terpanoids that increase blood flow to the scalp.
Of course, this works to promote hair growth.
Helps in preventing thinning hair and premature greying by stimulating melanin synthesis considerably.
It also helps in eliminating toxins for hair loss prevention and healthier hair growth.
This is a form of Sulfur and has anti-inflammatory features. It has clinically been proven to promote hair growth, prevent hair loss, and generally strengthen hair.
Ultimately, this ingredients works to support hair retention.
May support collagen production hence improving hair health. This ingredient also prevents hair breakage and damage thus promoting regrowth of healthy hair.
This ingredient stimulates hair growth because it is rich in Omega-6 fatty acids and Gamma-linolenic acid (GLA). These work to reduce inflammation and increasing moisture in the scalp.
Important – Please Note The Following About This Hair Supplement
That said; HairPrin does contains large doses of L-cystine and L-methionine, which are known to be toxic to human cells when overdosed (study).
Therefore, you may want to consult a physician before taking this supplement especially if you have pre-existing health conditions.
You may experience side effects such as vomiting, nausea, dizziness, headache, or dry mouth upon taking HairPrin.
What's more, high doses of L-methionine are known to cause agitation, restlessness, and confusion particularly for those suffering from schizophrenia (study).
You may want to try Folexin if you want to avoid such issues as it has cleaner, research-backed ingredients.
Advantages
The following are the benefits of the HairPrin supplement
It can be used by both men and women.
The supplement contributes to the general wellbeing of your body and supports energy levels.
Some of the ingredients in the supplement tackle vitamin and mineral deficiencies.
Suitable for vegans.
Easy to administer because it comes in capsule form.
Drawbacks
Although this supplement is great, it has its own flaws such as:
(1) It comes with some side effects for pregnant women and persons with particular medical conditions such as diabetes.
(2) There is not enough research on some of the ingredients in the product.
(3) Failure to take the supplement consistently and in the right dosage can cause it to flop.
How Safe is HairPrin?
We think that this supplement is safe to take as per the recommended dosage. However, it contains controversial ingredients whose long-term effects are yet to be fully studied or documented.
As a general reminder, it's always important to consult with your doctor about your decision to take any dietary supplements.
Who Is It For?
Some of the ingredients in HairPrin are not suitable for lactating mothers or pregnant women. We also would not advice anyone under the age of 18 to use it.
If you suffer from heart issues, seizures, high blood pressure, or diabetes, you may want to check with a doctor first before using this supplement.
You should also avoid using this product at least two weeks before any surgical procedure as it may impede blood clotting.
Some people have reported feeling nauseous, dizziness, stomachaches, and vomiting after using HairPrin so you may want to take that into account especially if you have any allergies.
About the Manufacturer
The HairPrin growth supplement is the creation of a US-based company known as Approved Science LLC. The company specializes in making supplements and we like that they had vegans in mind when producing this particular supplement.
Conclusion & Verdict
As we come to the close of this review, we can say that HairPrin is likely to affect your hair positively although the results are not guaranteed.
It does contain a few ingredients that can reduce hair loss but we are not certain that this supplement can improve hair growth.
Our lack of certainty is because the ingredients in the product are not supported by enough research. Most of the studies on the supplement are based on animals and we can only draw perfect conclusions from human studies.
We believe that the supplement could work, but you should not expect miraculous and speedy results only because there is no scientific backing on the product.
Verdict
While HairPrin is a decent supplement, we are of the opinion that you can find better value and safety in Folexin. This is a product we've been tracking since 2013 and can stand behind its efficacy. Read its full review here.