Millions of men and women experience hair loss across the U.S. and for different reasons. For some, it is due to hormonal changes, age and stress while others it could be poor nutrition or free radicals.
Unfortunately, there hasn't been any significant breakthrough in preventing hair loss. And the emotional cost of losing hair is immeasurable. Not only can hair loss hijack our confidence and self-esteem but it may also cause embarrassment.
The good news? There are many supplements out there that claim to promote hair growth. However, you probably know that supplements that claim to grow healthier and thicker hair are nothing new.
But just recently, people from all walks of life and even dermatologists have been buzzing about the hair supplement Nutrafol. A lot of people swear by its ability to grow thick, healthy, and lustrous hair.
However since the product has received mixed reviews on the internet, we were curious to know how effective it is.
So, check out our Nutrafol review to find out if it really delivers on its promises and how it compares to its worthy competitors.
Fact File
Product:Nutrafol
Manufacturer:Nutraceutical Wellness Inc.
Country: Made in USA
Best Price: Women Click Here
Best Price: Men Click Here
Our Review of Nutrafol (Be Wary of This Flaw)
This is a wildly popular hair loss supplement that is designed to promote hair growth in both men and women. Made in the US, Nutrafol is termed as a drug-free formula. This means that it's made only with natural ingredients.
However, you have to note that not all so-called natural ingredients are perfect. Some of them are potentially dangerous and you need to be wary of their potential side effects before you give this supplement a shot.
If you've been experiencing stomach cramps after using this product, the following paragraphs will provide you with the answer why.
L-Methionine
This is an essential amino acid that's believed to cause liver toxicity (1), increase susceptibility to cardiovascular disease (2) or raise the risk of Type-2 diabetes (3) if taken in extremely large doses.
That said, we believe that the Nutrafol team has done its best to provide the safest dose of L-Methionine possible but we can't confirm anything because they've hidden their formula in a proprietary blend.
L-Cysteine

This is yet another controversial ingredient hidden in the product's proprietary blend. L-Cysteine is thought to have toxicological effects on the stomach and kidneys if taken in huge dosages (4 & 5 & 6).
Once again, we want to believe that the awesome guys at Nutrafol have done a good job in providing a healthy and safe dosage of it although there's no way for us to verify that since they've hidden everything in their proprietary blend formula.
So, just how safe is this supplement? We believe that more long-term studies need to be done to assess the overall effects of taking this hair formula.
However, so far, we have come across tons of people complaining of stomach cramps and mild pain after using Nutrafol and we think this particular ingredient might be to blame for that.
If you'd like to opt for an equally powerful hair supplement but with cleaner ingredients, you might be interested in learning more about an alternative that's not only cheaper but also safer in our view. It's called Folexin.
How Nutrafol Works
Nutrafol aims to promote hair growth by naturally attacking the key triggers that usually affect hair health. These include DHT, stress, poor nutrition, and free radicals.
In other words, it helps neutralize free radicals, rebalance hormones and stress while also combating inflammatory molecules that alter the hair growth cycle.
But how is it able to do all this, you might wonder? Well, the supplement comprises a blend of vitamins, botanicals, nutrients, antioxidants, and proteins that are intended to target the underlying causes of thinning hair. For instance, it contains DHT-targeting ingredients such as Saw Palmetto.
Additionally, this formula works by creating a healthy environment for hair follicles to grow through neutralizing free radicals.
Ingredients List
Like we've already mentioned, Nutrafol is made with only natural ingredients that are medical-grade. Unfortunately, most of these ingredients are in proprietary blends. Therefore, there is no way to tell their amount per serving unlike some of its competitors.
And with the list of ingredients being quite long, we're only going to cover just the key compounds. These include:
Nutrafol Blend
This blend comprises 530 mg of botanicals and amino acids. These include L-Cysteine, L-Lysine, L-Methionine, Horsetail extract, Resveratrol, solubilized keratin, capsicum extract, and black pepper.
Unfortunately, some of these ingredients don't contribute much when it comes to hair growth. So, we don't understand why the manufacturer included them in the first place. Here is an in-depth look at the key ingredients in this blend.
Horsetail Extract
This is a herb that is rich in many minerals. For instance, it has been shown to contain very high levels of silica. And according to researchers, salicylic acid is shown to cleanse the scalp and remove dead cells. This can mean healthier hair growth.
It can also be used for strengthening nails as well as the skin. Unfortunately, this herb has not been studied or even approved as an effective hair loss treatment on its own.
L-Methionine
L-Methionine is an essential amino acid that contains great amounts of sulfur. This ingredient has been shown to encourage hair growth by inactivating free radicals. It also helps promote overall scalp, skin, and nail health.
Solubilized Keratin
Keratin is the protein found naturally in hair strands. It is responsible for giving hair its structure. As such, keratin-deficient hair may look dull, dry, and brittle.
However, replenishing these proteins through solubilized keratin can revitalize both the hair, nails, and skin from the inside out. Compared to other forms of keratin, this form is highly bioavailable.
This means that it is easily and quickly absorbed by the skin cells in order to replenish depleted hair follicles.
Resveratrol
Sourced from Japanese Knotweed which is a perennial plant, resveratrol is a compound that contains antioxidant properties and anti-inflammatory effects.
As such, it may help protect the scalp against oxidative stress caused by free radicals. This may help promote increased hair growth.
Synergen Complex Blend

Containing 1680 mg per serving, this blend comprises stress adaptogens, antioxidants, and DHT inhibitors. The specific ingredients that have been shown to play an important role in hair growth include:
Saw Palmetto
Studies show that Saw Palmetto extract may help reverse or prevent hair loss in both men and women. The extract is clinically shown to block 5-alpha-reductase, an enzyme that converts testosterone to DHT.
As you may know, DHT is considered to be a key contributing factor to hair loss. However, there is no enough scientific evidence on whether this ingredient works to treat hair loss.
Sensoril Ashwagandha
Ashwagandha is an evergreen herb that mostly grows in India, parts of Africa, and the Middle East. Its roots and fruit have been used for many years for medicinal purposes.
This herb is classified as an adaptogen which means it can help your body manage stress to support the hair growth cycle. It also contains antioxidant properties. Therefore, it may help get rid of free radicals to promote healthy hair growth.
Curcumin Extract
Curcumin is a component of turmeric that has been largely studied for its inflammatory effects. However, it may also help reduce hair loss by activating the vitamin D receptor, which has been shown to promote hair growth.
Hydrolyzed Marine Collagen
This is a pure form of hypoallergenic protein that is sourced from the skins of fish. It contains amino acids that have been shown to build hair proteins and improve scalp health.
The compound also helps fight against damaging free radicals that can damage hair follicles and lead to hair loss.
Other Key Ingredients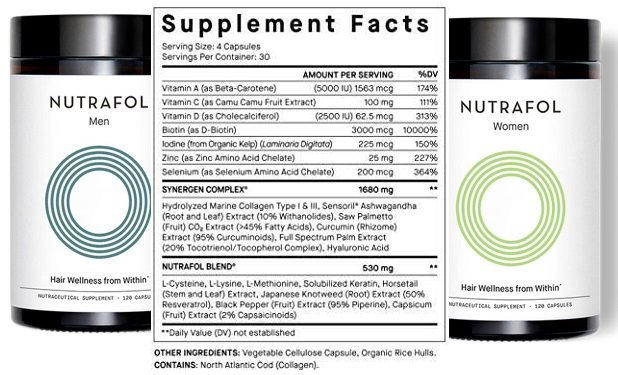 Biotin
Biotin is a B vitamin that is available in soluble form. It acts as a building block for healthy hair and is also used to metabolize amino acids and fatty acids. In fact, different studies have shown that biotin deficiency may lead to thinning of the hair and alopecia.
Zinc
Zinc is an essential mineral that plays so many metabolic functions like maintaining hormonal balance, protein utilization, and cell reproduction.
Also, this mineral is responsible for rebalancing natural oil glands around the hair follicles which helps prevent hair loss.
How to Take It
The recommended daily dosage is four capsules. Furthermore, it is advisable to take the supplement with a meal to enhance the digestion and absorption of bioactive ingredients. Also, you can take the capsules at any time of the day.
Any Potential Side Effects?
We are yet to come across any major complaints raised about Nutrafol side effects. Most of the independent reports we came across cited minor issues among them:
Stomach cramps
Nausea
Allergic reactions
As we've already mentioned, this supplement contains two ingredients that have previously been flagged for being potentially dangerous when taken in huge dosages.
That's worthy keeping in mind although people rarely seem to be reporting any negative effects that seem to suggest that those two ingredients might be overdosed in this supplement.
Our verdict, however, remains that long-term studies may need to be done to ascertain the long-term effects of taking this hair growth product.
Where to Buy & Pricing of Nutrafol
You may purchase Nutrafol on its official website. A single bottle containing 120 capsules retails at $88 for both the men and women formulas. However, if you choose the monthly subscription option, you will only pay $79.
Unfortunately, some customers reported than once you're enrolled in the monthly subscription, it's not straightforward to opt-out.
If you don't like the idea of being subscribed to products and having a difficult time unsubscribing, we'd suggest getting this supplement on Amazon instead.
You won't need to pay a cent more, plus, you get the same-old level of trust Amazon is known for.
Pros
Made from clinically proven nutraceutical
Manufactured in FDA registered and cGMP certified facilities
Addresses multiple root causes of hair loss
Third-party tested for purity, heavy metals, and safety
The manufacturer offers one-on-one consultations with naturopathic doctors
Contains bi-optimized and standardized ingredients for efficacy
May help improve sleep, skin, nails, and your overall health
Available in three types including for men, women and women's balance
Cons
It's loaded with so many ingredients and some don't even contribute to the wellness of the hair directly
Most ingredients are in proprietary blends. So, one can't tell if they are optimally dosed or not.
Insanely priced
You need to take it consistently for at least six months to notice any visible changes
Our Final Verdict & Rating
Overall, Nutrafol seems like a pretty decent supplement. It covers nearly every single aspect of hair loss, from rebalancing hormones to managing stress and getting rid of free radicals. What's more, it contains a couple of ingredients that have been shown in various clinical trials to support hair growth.
However, it is far from perfect. For instance, some of its ingredients are potentially dangerous if taken in high dosages. Not to mention, most of its ingredients are in proprietary blends (so we can't tell how much of what is hidden in there).
To this end, we're of the opinion that even though Nutrafol isn't pathetic, alternatives with cleaner ingredients exist on the market and Folexin reviewed here is just but one of them.