Are you losing too much hair or is it just thinning? Whatever the case, we are certain that you do not want that to be your reality.
Of course, you can take consolation in the fact that you are not alone because many women across the world suffer from the same. But that will not be a solution to your problem and you want to find one as soon as possible.
Hair La Vie might just be the solution you are looking for because this hair supplement claims to restore lost hair and prevent thinning.
While the supplement is quite popular, it does have its fair share of downsides. We honestly think that it's overrated probably because the company behind it has invested greatly in influencer marketing. That said; we'll still look into it in detail to help you make an independent decision.
Product Overview
Essentially, Hair La Vie is an assortment of products created to reduce hair loss and encourage hair growth at the same time.
The manufacturer claims that all their products are 100% natural. Moreover, the products are sold as free of preservatives, synthetic fillers, dyes, and parabens.
Their clinical formula formula is the most popular product they've created so far. It has so far attracted numerous reviews – both positive and negative ones.
However, we honestly think that this supplement is crazily priced. At 66 bucks per bottle, we feel that you can get better value for money from a $25 equally good (or even better) hair supplement.
Hair La Vie vs Folexin: 5 Quick Takeaways
At HairyJimbo, our aim is not just to endorse or critique products because that would just make us average reviewers and we can tell you for a fact that is not what we are.
Rather, we focus on stating facts so that our readers can make informed choices. That said; we did find a few issues in the course of reviewing Hair La Vie and given the fact that we have previously ranked Folexin as our top hair supplement, we wanted to find out how the two compare.
Takeaway #1
Hair La Vie contains 5000mcg of biotin and you will realize that this is too much if you do your research.
The daily recommended intake of Biotin stands at 300mcg in the U.S (according to the NIH). This is because if you take too much of it, you may experience unpleasant symptoms such as breaking out, nausea, vomiting, and rashes.
Breaking out is the most commonly reported one on user reviews appearing on sites like Amazon.
Moreover, ingesting Biotin in excess could lead to false positive laboratory tests for thyroid disease (according to FDA).
Most importantly, you are not likely to suffer a biotin deficiency if you are on a healthy diet. So, if you're losing hair and typically live a healthy life and survive on the average diet, chances are that Biotin-deficiency isn't to blame for your woes.
And that's precisely why we think that Folexin offers a healthier choice through its better dosed Biotin quantities at 600mcg per serving.
Takeaway #2
The Hair La Vie formula lacks solid fatigue and stress relievers. On the other hand, Folexin contains L-Tyrosine nootropic that is backed by research and naturally increases your dopamine or "feel-good hormone" that works to increase your energy levels (as reported on PubMed). The best part? It's all natural.
Folexin also contains nettle root extract which is a recognized anti-inflammatory and stress reliever. As such, we can say that Folexin does a lot more as far as stress relief.
Most people who take this alternative hair supplement report feeling happier and in full control of their lives almost immediately. That's probably all thanks to the presence of L-Tyrosine in the formula.
Takeaway #3
Folexin contains PABA, a vital research-proven ingredient in darkening hair and improving skin quality. You won't get that bonus if you opt for Hair La Vie instead.
Takeaway #4
We came across numerous reviews from people who reported that Hair La Vie pills are too large and come with an unpleasant taste that can make you gag. Our recommended product comes in small and easy-to-swallow pills with no after-taste.
Takeaway #5
As mentioned earlier, Hair La Vie goes for 66 bucks per bottle. That's quite overpriced given the fact that it doesn't offer anything that's too different from Folexin which trades for $25 or $18 in bulk. If you're looking for good value for your money, you now know where to turn.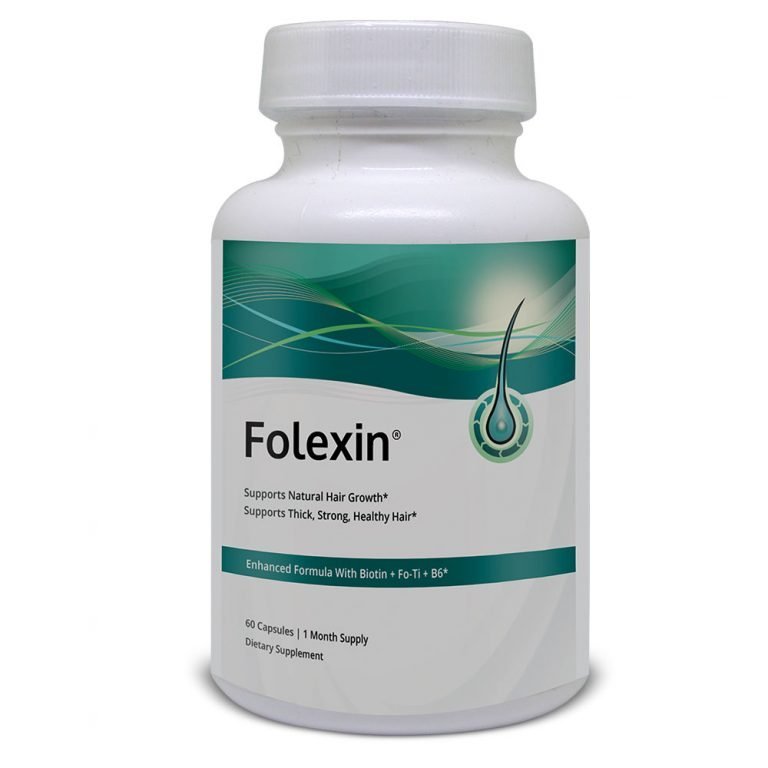 How Hair La Vie Works
When it comes to the Clinical formula, how it works is by diminishing weak hair follicles and promoting regrowth of healthier hair.
So, how does it do that? Well, it comprises science-backed ingredients that are known to promote healthy hair growth.
As far as the revitalizing blend, it works by infusing your hair follicles with vitamins, antioxidants, and minerals.
As a result, you are likely to achieve healthy hair growth with incredible luster and volume.
What it Includes
Hair La Vie purports that this is a science-backed supplement made from 100% natural ingredients.
It contains a whooping combination of 20 ingredients in the clinical formula supplement and a lot more in the other 2 formulas.
Clinical Formula Supplement (Main Formula)
First off, this is what you get to pay $66 for. The other two blends are sold separately.
We are going to begin the ingredient list with biotin because it is famous for promoting the growth of healthy nails, skin, and hair. As mentioned earlier, we think that this particular ingredient is overdosed.
Evnol Max is another key ingredient in this product and is known to be a branded form of vitamin E.
As you search for a hair loss supplement, you want to get one with a DHT inhibitor. Why? Because the inhibitor is what will help reduce the hormone that causes hair loss. This is the main purpose of Saw Palmetto in this supplement.
This ingredient might help decrease DHT, a naturally-occurring hormone that plays a part in hair loss and balding by shrinking your hair follicles.
Do not even get us started on flaxseed as this ingredient is full of omega-3 and 6 fatty acids which your body requires for healthy and nourished hair follicles.
There is also a herb in this product's formula that is known as horsetail. It is a good source of silica but why do you need silica? Only because it can speed up hair growth.
Other notable ingredients include:
This is an ancient plant that has clinically been proven to promote the growth of hair. It is also famous because of its antimicrobial features that safeguard your hair follicles from damage.
This is a berry, but not just your average berry because it might help in promoting the growth of healthy hair. What is more, is that it can also help reduce greying hair.
Revitalizing Hair Blend Vitamins (Sold Separately)
You'll have to part with extra cash in addition to the $66 cost if you want to get this blend as well. Yikes!
Intended to supply damaged hair follicles with minerals, antioxidants, and vitamins, this is another of Hair La Vie's products.
It comprises 20 ingredients although in proprietary combinations. We are skeptical about that because it denies you the chance to know how much of an ingredient is contained in the formula.
Just like its counterpart the clinical formula, this product also contains biotin, bamboo leaf, and saw palmetto.
Other main ingredients include:
This ingredient can potentially increase nail, skin, and hair elasticity as it is rich in protein because that is just what protein does.
Of course, this is oil just as the name suggests but not just any oil. It contains omega-6 fatty acids to aid in reducing inflammation in the scalp that usually culminates in hair loss.
This compound is a natural iodine source and what that does for you is to regulate follicle activity in your scalp for healthier hair growth.
Conditioner and Shampoo Set (Sold Separately)
This pair is designed with the aim to rejuvenate and cleanse your hair so that it feels and looks strong as well as lustrous and thick from the outside.
The set comprises a blend of 21 organic ingredients including amino acids, vitamins, 11 essential oils, and proteins.
Other ingredients in this set are:
This oil is filled with vitamin E and C as well as essential fatty acids that work to promote your scalp and hair without blocking your pores.
You want your pores to remain unclogged so that hair can grow out of them without any impediment.
Most people use this oil because it is lightweight and easily absorbed. It is known to promote a clean and smooth scalp.
You need that if you want your hair to grow fast and healthy.
It is now obvious that this set contains a lot of oils and this is yet another one. Peppermint oil strengthens and supports your hair's ability to preserve moisture from other ingredients.
Of course, this keeps your hair soft and supple – not brittle as this contributes to breakage.
Although this is just a moisturizer, it contains molecules that look like the keratin that is in the genetic composition of hair.
What it does is to prevent your hair from becoming brittle and ultimately breaking.
Here is what you need to grasp…
Both the revitalizing and clinical formulas are fortified with saw palmetto, which is believed to inhibit DHT. Of course, DHT is the hormone that causes hair loss especially in men over the age of 30. Remember we mentioned this earlier in the review?
Furthermore, both formulas comprise bamboo leaf and stem as major ingredients and what this ingredient does is to promote hair luster and elasticity as well as prevent split ends.
How to Use It
According to the manufacturer, you are supposed to take three pills of the clinical formula. Preferably two pills in the morning and one as you retire to bed.
As far as the Revitalizing blend, you can either take two pills at once or one with your breakfast meal and the other with your dinner.
For the conditioner and shampoo, simply apply them on damp hair and massage thoroughly. Let them sit for about five minutes for maximum absorption before rinsing out with warm water.
Who Can Use It?
Generally, Hair La Vie is a safe product that can be used by anyone especially because it contains all-natural ingredients.
However, you'll want to stay away from it if you're allergic to any of its ingredients.
It would also be wise to seek clearance from your doctor before using it.
Advantages
You will get to enjoy several benefits when you purchase Hair La Vie such as:
Science-backed ingredients
90-day money-back and risk-free guarantee
Free shipping for bulk purchases
Suitable for all hair types
Can be used by both men and women
Drawbacks
Unfortunately, Hair La Vie has its own flaws which include:
Results vary from person to person
Pills are difficult to swallow
Pricey
Potential Side Effects
As we have previously mentioned, this supplement comprises of natural ingredients. Therefore, you are less likely to experience any side effects.
However, the product has not been confirmed to be completely safe and for instance, if you are allergic to any of the components of the product, you could experience some side effects.
Kindly keep the following in mind:
Too much Biotin may lead to breakouts. With the recommended daily intake of Biotin being 300mcg, the 5000mcg in this product might be too rich for your blood.
Each dosage of Hair La Vie contains copper in 165 milligrams. Although copper is necessary for the production of red blood cells, it can cause toxicity if taken in excess.
Other than those concerns, this hair supplement has a wide margin of safety. That said, we'd encourage you to talk to your doctor first prior to swallowing the capsules if you opt to invest in them.
Hair La Vie Customer Reviews
We sampled out some of the Hair La Vie reviews appearing on Amazon. We only picked the ones labeled as "Verified Purchase" just to be sure that these are people who have actually bought the supplement and used it.
"These are gelatin capsules but their taste will make you gag. Just be sure to hold your breathe (sic) as you swallow them." – Verified Amazon Customer (23, Dec 2019).
"Has slowed my hair loss but have only taken for a month." Maureen Harter, Amazon Customer (3, Feb 2020).
"The vitamin pills are a little hard to swallow. Also, I feel it's very expensive as it does not last long taking 3 pills a day. Not sure it's really working." – Claire DePrimo (23, April 2020).
Overall, Hair La Vie enjoys an average rating of 4.2 stars out of 5 stars. Not bad at all for a product of its caliber. The majority of those reviews, however, are from people who had just received the product and not used it (this is probably due to the fact that the Hair La Vie team reaches out to their buyers requesting them to post reviews).
Conclusion
After going through this review, the biggest question remains – is Hair La Vie worth incorporating into your hair care regimen? Well, we can say that it is and it works for some people but others would prefer to try something different.
We honestly think that it's overrated and overpriced but still worth trying if you don't mind spurlging on hair supplements.
But if you're after value and are open to the idea of trying a new, equally good (or even better) product, Folexin would be such a good option to settle for. You may read this product's review in full here.