If you've been spotting balding patches on your head of late you might feel frustrated. But you don't have to let that define you! And that's why in the following Folexin review, I'd like to talk about a product that's widely believed to reverse hair loss and strengthen thinned hair strands.
The product is a blend of vitamins and natural herbs that have been used since time immemorial and studied by leading scholars and dermatologists from across the world.
So far, many people seem satisfied with the results this supplement claims to deliver. But what does the world of science think about Folexin?
Today I would like to place this product under the loupe to see if it really is worth its weight in gold. I'll particularly be keen to point out its flaws as well (which is something most shill Folexin reviews would never risk covering).
Folexin Reviews: What Users Say About The Supplement
We did a random check on some of the Folexin customer reviews posted on independent online platforms e.g. Reddit, Amazon, and Site Jaber. Here are some of the insights we gathered for you.
And now, some screenshots:
[Tap on the directional arrows to view next]
To break it down for you…
Screenshot #1 is a review posted by a user called Nakaman ( a verified buyer on Amazon). The user claims that they started seeing benefit from this product after using it for a month.
That's quite fast! But we want to believe that he/she probably was only dealing with minor symptoms of hair loss. Typically, the earlier you start using the supplement, the easier it will be for you to regrow your hair back.
The second testimonial is posted by an anonymous user but verified user. Although she is yet to see the benefits of using the supplement, she is glad that there have be no side effects so far. That's quite promising.
In December 2019, yet another anonymous user posted their assessment of the Folexin supplement noting that besides their hair health improving, they also felt energetic upon taking the pills.
More Real User Feedback and Rating on Folexin
On a site called SiteJabber, we came across an evaluation from a user "Angry J" who seems to like the product too.
In total, we came across tens of independent assessments by consumers. Fortunately, a vast majority of them give this product thumbs up.
What Is Folexin All About?
Folexin is a hair loss vitamin supplement that's made up of natural ingredients. It is thought to promote hair growth, encourage the restoration of healthy hair in areas of the head experiencing balding or thinning.
What I know so far is that to support hair growth, you need to get to the root of the problem. In most cases, the following are the root causes of premature hair loss:
Hormonal changes e.g. from testosterone to DHT
Bad hairstyles e.g. poorly done ponytails
Excessive and prolonged stress
Use of certain medications or medical processes
Use of bad hair styling products e.g. flat irons
Experts from across the world have confirmed that indeed, it is possible to re-grow lost hair as long as the hair root is still present. The only time you lose the hair root or follicle is when you've had scarring alopecia or a terrible accident that completely damages your scalp.
Otherwise, in most cases of baldness or thinning, the hair root is still in place only that it has become dormant or weak. And that's where this hair supplement purports to help.
How It Works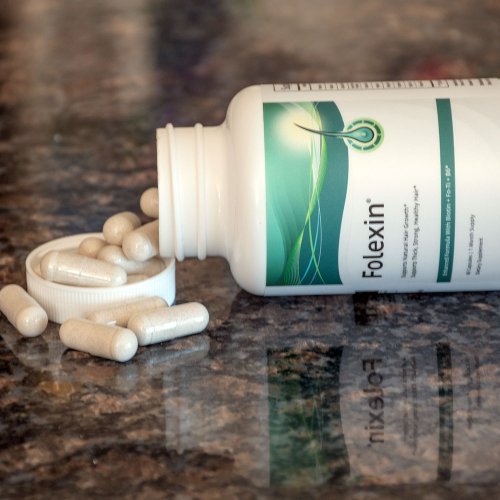 Within the product is a generous supply of Biotin (600 ug). According to the latest scientific studies, Biotin deficiency can significantly contribute to the loss of hair.
The peer-reviewed Skin Appendage Disorders Journal of Karger Publishers reports that Biotin's use "as a hair and nail growth supplement is prevalent." However, the same study points out that research demonstrating its efficacy is quite limited at the moment (Source).
Folexin Contains More Than Just Biotin
Unlike other products available out there which are solely based on Biotin as the active ingredient, Folexin contains a lot more.
One particular ingredient on its supplements fact sheet that caught our attention is the Saw Palmetto. Known scientifically as Serenoa repens, this natural ingredient has tons of scientific research backing up its efficacy as a hair loss reversal tool.
The Journal of Cosmetic Dermatology reports that Serenoa repens may have a role to play in reconverting Dihydrotestosterone (DHT) into testosterone (Source). Note that DHT is a well-known cause of hair loss out there.
What's more, in 2009, the Journal of Cutaneous and Aesthetic Surgery noted that although larger studies needed to be done (at that time) to ascertain its effects in self-medication use, its side effects are uncommon (Source). In a nutshell, it's quite safe to use.
Yet another peer-reviewed journal "European Review for Medical and Pharmacological Sciences" noted the following about Saw Palmetto "Serenoa repens promoted hair growth and repair of hair loss mouse models…" (Source).
And There's More!
To complement the effects of Saw Palmetto and Biotin, Folexin also provides you with a host of hair regrowth ingredients. Some of these have been used since time immemorial and include:
Horsetail Extract
Fo-Ti
Folic Acid
Nettle Root
Zinc Oxide
[HERE'S THE FULL LIST OF INGREDIENTS]
Does Folexin Really Work?
Having taken a scientific look at each one of its ingredients, we'd like to say that we are satisfied that this can help restore hair growth. However, it seems best suited to deal with baldness and thinning due to:
-Extreme stress
-Bad hairstyles
-Hair loss in men due to hormonal changes
-Losses due to the use of heating irons
-Vitamin deficiencies e.g. by re-stocking Biotin
That said, it might not help much in some situations. Among such situations are hair loss due to medical processes like chemotherapy or permanent (deep) scarring of the scalp.
Another thing, Folexin isn't a magic pill. As you know, hair growth is a slow but steady process. It's like watching the grass grow on the lawn. There's no way you're going to witness any noticeable growth within a few quick days.
Most scientific studies we examined had the subjects use the individual ingredients for up to 100 days. We wouldn't expect Folexin to work any faster than that (but might be slightly faster owing to the fact that it uses premium ingredients).
But don't take our word for it…
Benefits of Folexin
There are quite a few things we like about Folexin hair loss vitamin pills. The first thing is that it contains all-natural ingredients. So, this assures you that what you're putting in your body is basically earth-grown nutrients.
Another thing, we like the fact that this product is made right here in the USA. What's more, it is made in a manufacturing plant that meets the GMP standards and FDA guidelines (in Richmond, VA).
You see, the good thing with ordering locally made products is that you're sure someone is looking out for your safety. That's not always the case when dealing with products made overseas.
The company behind Folexin is known as VitaBalance. Their website doesn't say when they were established but as far as we know they were in existence long before 2013. That's because the first time we came across Folexin was in April of 2013 through a friend who recommended it to one of our team members.
We have been tracking the company's performance over the last 7 years or so and so far we're amazed by their professionalism as in:
Helpful customer support
Fast shipping (tracking number provided)
Secure data encrypted connection on their website
Professionally packaged product
Awesome customer support (did we just repeat that!)
3 Flaws with the Product
1. It's partly made up of a proprietary blend so we can't exactly how much of Saw Palmetto, Fo-Ti, L-Tyrosine, PABA, Bamboo Extract, Spirulina, Alfafa or Horsetail Extract is in it.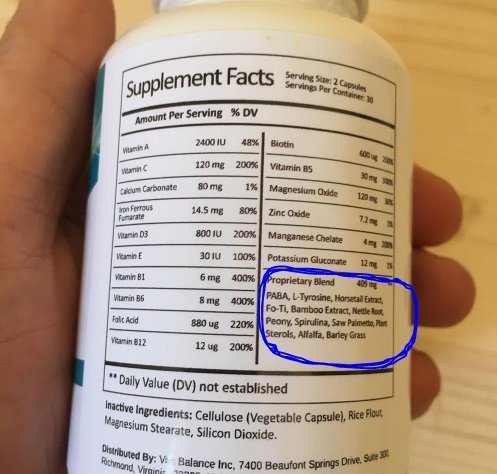 2. The product contains soy and so if this is something you don't want to see in your diet, then Folexin isn't the right product for you.
3. Some of its ingredients e.g. Biotin may not be safe to take if you're pregnant. Talk to your doctor about this if you think you're expectant prior to trying this supplement.
How Folexin Compares to the Competition
And now, it's time to see how this relatively popular supplement measures up to the competition. Its direct competitors include Nutrafol (reviewed here), Viviscal (reviewed here), and Serovital (reviewed here).
Nutrafol vs Folexin
Honestly speaking, Nutrafol is a bigger brand name than Folexin. Indeed, the company behind it has invested truckloads of cash in advertising and that explains why it has literary become a household name while Folexin remains more of an internet sensation.
All that advertising, however, comes at a cost – and that cost is eventually passed down to the final consumer. And I think that explains why Nutrafol pills are so expensive.
Folexin, on the other hand, heavily relies on referral marketing and sells directly to the consumer via its official website. As such, they are able to keep their costs low passing down those benefits to the final consumer even though that comes at the expense of brand prominence.
Read more about Nutrafol here.
Viviscal vs Folexin
Viviscal and Folexin contain near similar ingredients. There's no doubt that the former is a top-tier product with a more established brand presence.
However, when you need to compare the basics, we'd say that Folexin gives higher concentrations of ingredients per dosage.
For instance, it gives Biotin at 1,000% daily value while Viviscal gives it at 400% daily value. Also 235% DV for pyridoxine while Viviscal gives 0%.
What's more, Folexin provides more vitamin ingredients in its mix – making it a stronger multivitamin than Viviscal.
Above all, while a pill of Folexin costs $0.30, one for Viviscal goes for $0.50 per capsule. More about Viviscal here.
Serovital vs Folexin
These two are closely related but Folexin has 200mg more Biotin than Serovital. What's more, you get Saw Palmetto (DHT blocker) with Folexin but nothing of that sort on Serovital.
Above all, Serovital goes for $0.74 per soft gel while Folexin costs $0.30 per pill. Find out more about Serovital here.
Frequently Asked Questions
Does Folexin have any side effects?
The product has a wide margin of safety especially when taken as directed. However, stomach cramps may be experienced if one takes the capsules on an empty tummy. That's why it's important to take it with a meal e.g., a smoothie, or even a glass of milk.
If taken in higher than recommended dosages, Folexin can lead to side effects including:
Headache
Diarrhea
GI tract irritation
Dizziness & lightheadedness
In rare cases – Liver damage
For maximum safety, consult with your doctor before you introduce this or any other supplement in your schedule.
Is Folexin a DHT Blocker?
Folexin contains Saw Palmetto which is a well-known DHT blocker. Healthline.com reports that even though the research done on Saw Palmetto is limited, the results on its DHT blocking abilities have been promising thus far.
Do you have to take Folexin forever?
As long as the underlying cause of one's hair loss is addressed, there is no need to take supplements like Folexin forever.
Once you are satisfied, you can enter the maintenance phase by eating foods rich in zinc. Regular use of DHT blockers may also help in the long-run maintenance of hair.
Will I be billed automatically per month when I buy Folexin?
Folexin is a one-time purchase product meaning your credit card information will not be used to enter you into a subscription model of any sort. You simply need to make a fresh order every time you need to replenish your supplies.
How long does Folexin take to work?
This is not a quick fix. So, expect it to take "its sweet little time" to get the job done. With a good diet, exercise, and a bit of luck some users have reported seeing good before and after Folexin results in 10 to 20 weeks.
Can I buy Folexin in the United Kingdom (UK)?
For now, it is not possible to purchase Folexin directly from streets stores in the UK. Fortunately, their online store ships across the world and you can order it there to have it shipped to you in a matter of days.
Are there any before and after photos of Folexin?
The official website conspicously lacks before and after of the product. This is most likely for legal reasons. Also, it could be that they want consumers to speak for themselves – effectively avoiding cheap marketing stunts.
As such, if you would like to find any comparative photos, your best bet is to check with Amazon, Walmart, independent blogs and forums. You'll find all kinds of people documenting their journeys with the product. And the reviews are mostly positive.
Summary
Let no one fool you that this is a perfect product that will transform your hair as if by magic. As we have noted time and again in this Folexin review, hair loss and regrowth is a complex issue. It would take days even for the most effective natural hair restoration formula to work.
After all, Rogaine (Minoxidil) takes 6 months to work! Viviscal takes roughly 3 months to deliver any traces of hair re-growth! And yet from the reviews we gathered, Folexin results are commonly reported in 10 to 20 weeks.
Quite frankly, we think that Folexin is grossly underestimated out there. And if you're reading this as part of your private research on how to stop hair loss and thinning, this is a product we'd highly recommend trying.