A healthy head of voluminous hair is a crown irrespective of whether you are a man or woman.
As such, when your hair begins to thin out or just fall off, you may find yourself slipping into a dark place of low self-esteem that may be difficult to get out of.
But you don't have to let a "bad hair day" get the better of you. Fortunately, there are numerous hair remedies available out there – one of them being the Hair Hero supplement (or simply Hh).
But just how effective is Hh? As we found out, this relatively popular product has cheaper but possibly better alternatives. Stick around to find out.
Quick Facts
Product: Hair Hero (Hh)
Manufacturer: Essential Elements
Country: Made in USA (UT)
Hair Hero Overview: Our Review
Hair Hero is a potent hair growth supplement that contains minerals and vitamins intended to nourish and stimulate hair growth.
Now, it is important to note that this formula is all-natural. What does that mean? That you are less likely to experience any side-effects. We can bet that you will appreciate that!
Another thing we found appealing about this product is that it is suitable for all hair types.
That said, we happen to think that it's overpriced and that you can get even better results using our #1 recommended supplement which actually costs $10 less.
How it Works
Hair Hero is Non-GMO, gluten-free, and preservative-free. A single bottle of the product comes with 60 capsules that you are required to take twice every day.
Of course, Hair Hero should supplement your diet. The capsules alone will not do much for your hair if you are eating the wrong foods.
The way this supplement works is by naturally strengthening and repairing spoiled hair follicles. It has a proprietary blend of ingredients that include minerals and vitamins designed to rejuvenate and nourish your hair so that it grows strong and healthy.
Ingredients List
As we have previously mentioned, Hair Hero contains all-natural ingredients that work to boost hair growth and health.
We begin this ingredient list with hydrolyzed collagen which hydrates your hair and stops it from breaking. How it does that is by forming a protective barricade around each of your hair strands to prevent hair loss.
Biotin is another major ingredient in this supplement and it reinforces the keratin structure of your hair. This converts particular nutrients into energy and inhibits hair loss while improving hair growth.
Now, Hair Hero contains 5000mcg of Biotin which is much more than the US daily recommended dosage of 300mcg. While overdosing on biotin is not necessarily toxic, it may lead to some unpleasant side effects such as:
Stomachache
Acne
Skin Rashes
Our preferred supplement contains moderate quantities of biotin but makes up for that by loading up on complementary ingredients such as Fo-Ti and PABA.
Other Ingredients
We are just in the middle of it all when it comes to the major ingredients in Hair Hero.
Horsetail is another vital ingredient contained in the formula and is thought to work by reinforcing building blocks to your hair follicles so that it can grow faster.
That is not all; there is also Saw Palmetto in Hair Hero which acts as a DHT inhibitor. This may reduce and prevent balding which is usually common with men over 30 years of age.
We finalize the ingredient list with Bamboo stem and leaf extract that moisturizes the hair to prevent breakage and provides the building blocks required to grow healthy hair.
Other notable ingredients in this supplement include:
Pantothenic acid
Folic acid
Various vitamins
These also contribute to hair growth.
That said…
Hair Hero does not contain some crucial ingredients such as Ginkgo Biloba, Nettle Root extract, or Reishi Mushroom which work to relieve stress.
In short, the manufacturer of this supplement did not take into account that stress can also cause hair loss.
Advantages
Here are the advantages you will get to enjoy when you purchase this supplement.
Easy to take
Gluten-free
Non-GMO
Free of preservatives
Suitable for all hair types
Drawbacks
This supplement has a few shortcomings which include:
Strong smell that may be unpleasant for some people
Lacks a stress-relieving ingredient
Overpriced
Contains way too much Biotin than is recommended
Who Is Hair Hero For?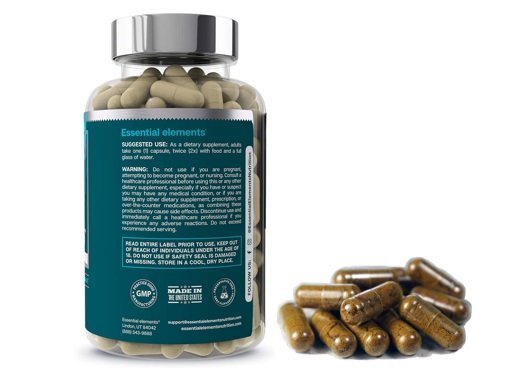 Hair Hero is generally safe for use since it contains natural ingredients. However, nursing mothers, pregnant women, and, any other person with pre-existing medical conditions should seek permission from a physician before proceeding to use the product.
Moreover, if you are allergic to any of the ingredients in the formula, you should probably refrain from using it.
Customer Reviews
We sampled out some of the top reviews of this product appearing on Amazon. Here's what some of its users have to say.
"Seems to be working, already looks like a need a haircut even though I got one about three weeks ago" – Aimee (4 Star Rating)
"After the first 3 weeks, I noticed I was breaking out quite a bit, but I kept on taking them thinking my skin would adjust (it usually does). However, after I finished the 4th month I decided not to reorder…" – Amanda Dumond (3 Star Rating)
"I must say they are big capsules and are hard to swallow. They also smell awful and taste weird. Its worth the results though." – Kayleigh Wack (5 Star Rating)
Final Thoughts
Hair Hero is undeniably a great hair supplement that can actually prevent hair loss and promote hair growth.
Some people swear by it and some are not too sure about its effectiveness.
Our honest opinion is that while it is a good product, you may get better value from Folexin which is our #1 recommended hair supplement.
Folexin contains essential stress-relieving ingredients in addition to all the ingredients provided by Hair Hero. And above all, it costs 10 bucks cheaper than Hh.