Are you wondering if FoliGrowth is a good hair growth supplement? Worry not because, in this review, we'll tell you about its "good" and "not-so-good" aspects. We believe that this kind of information is important as you need it to make an informed choice away from the hype.
Quick Facts
Product: FoliGrowth
Manufacturer: Advanced Trichology
Country: Made in USA
Best Price: See on Amazon
FoliGrowth Overview; Our Review
The Foligrowth supplement comes in the form of pills and contains ingredients meant to promote the healthy growth of hair.
Advanced Trichology, the creators of this supplement say that this supplement primarily targets women who are looking to grow longer and thicker hair rapidly.
This product is specially formulated to help reduce shedding and efficiently combat hair loss. This makes this product sound like it is a remedy for balding but it is not.
Foligrowth is not marketed as a DHT Inhibitor so it cannot prevent balding. The formula behind this product is simply a combination of several minerals, vitamins, amino acids, and herbal extracts.
So, if you're looking for a product that's meant to prevent balding and contains DHT inhibitors, we'd recommend you try Folexin instead. Not only does it contain all the essential vitamins and minerals found in FoliGrowth but it also comes with high-quality Saw Palmetto extract (a natural DHT inhibitor).
Plus, it's cheaper by 15 bucks per bottle.
See our full review of Folexin.
Ingredients
Foligrowth comprises several active ingredients that work to promote hair growth. These include:
Biotin
If you are experiencing hair loss, this mineral can help reinforce your hair follicles as well as your scalp to stop the hair from thinning or shedding.
Folic Acid
You may have heard about this ingredient, especially among expectant women. Why do you think this is? Mainly because folic acid promotes healthy growth of cells.
The same applies to your hair. The presence of this ingredient in Foligrowth will help renew the cells responsible for hair growth.
Bamboo Extract
Bamboo is known for improving hair luster and the health of hair generally. Besides that, it can also help strengthen your nails.
The thing is that bamboo contains amino acids, phenolic acids, glycosides, and flavones. These are known to inhibit hair loss and promote hair growth.
Opti MSM
This is a patented version of methylsulfonylmethane, a natural compound that has previously been associated with the "strengthening of hair and influencing growth." More research, however, needs to be done to ascertain those claims.
Vitamin B12
This ingredient works to supply your body with energy and promote hair growth. The vitamin also plays a key role in cell division which ultimately influences the rate of hair growth.
Iodine
Low iodine levels have been shown to contribute to loss of hair. Fortunately, Foligrowth has optimal quantities of this ingredient which plays a vital role in reversing iodine deficiency as well as an underactive thyroid.
Zinc
This ingredient plays a major role when it comes to hair tissue repair and growth. Besides that, it keeps the sebaceous glands around the hair follicles working properly to facilitate hair growth.
Iron
Iron deficiency can cause hair loss. Enough of it helps improve blood circulation and transports oxygen to the roots of your hair. This will promote longer and faster growth of your hair.
Vitamin D
This ingredient helps in generating new hair follicles. As such, Vitamin D plays a role in the production of healthy hair.
Choline
A deficiency of this macronutrient can cause baldness, hair thinning, and hair loss. This makes it a necessity for anyone who wants healthy hair.
How it Works
Foligrowth is an organic hair supplement that is made up of a combination of herbs. It is in capsule form and promises to restore lost hair as well as stop it from thinning.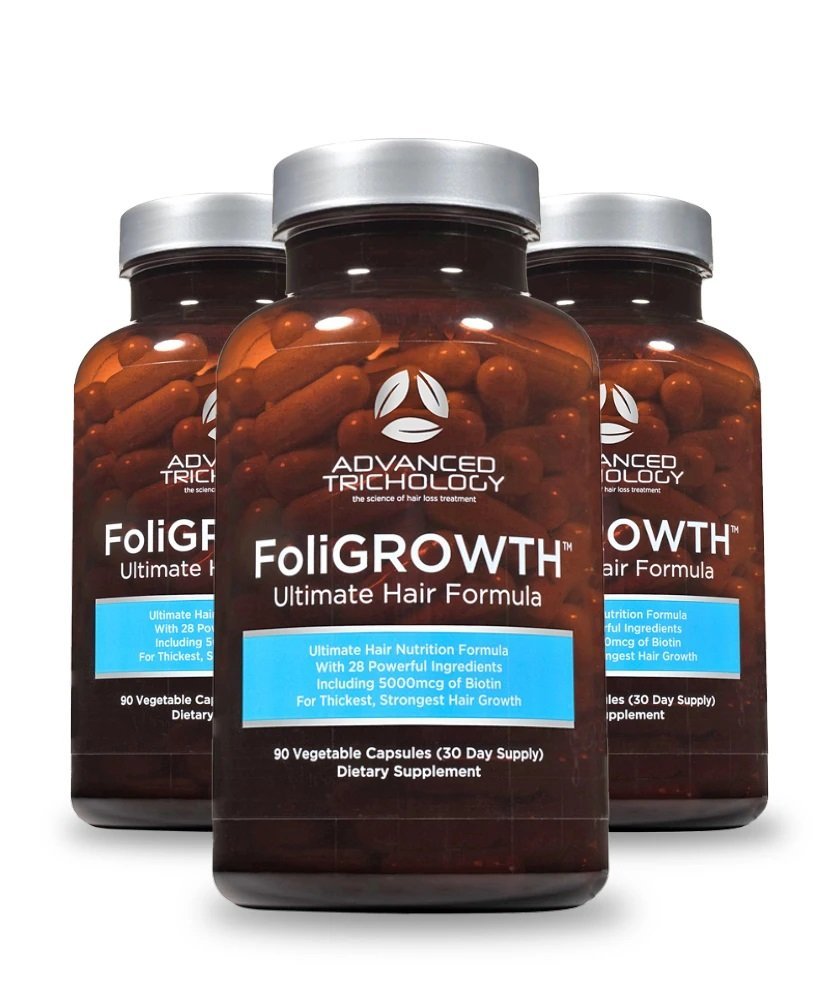 The key role of this product is to hinder the production of a hormone known as DHT. This hormone is said to cause hair loss.
In this supplement, there are also some ingredients that supply nutrients to your hair follicles. Of course, healthier follicles facilitate faster and healthier growth of hair.
The constituents of this supplement also generate RNA and DNA. These compounds help in breaking down hair follicles for healthy hair growth.
Related
HairAnew Review << How Effective Is This Supplement?
Viviscal Professional Review: What's So Special About It?
Side Effects of FoliGrowth
Foligrowth is suitable for most people for the most part. Nevertheless, it may be advisable not to use the product under particular circumstances.
For instance, people who are on anti-platelets or estrogen pills should avoid using the supplement. Women who are using contraceptive pills should also think twice about using this supplement because some of its ingredients are known to reduce the effectiveness of the birth control method.
The following are some of the potential side effects you are likely to experience based on the ingredients contained in this product:
Diarrhea
Vomiting
Dizziness
Nausea
Constipation
Headache
Note: these are potential side effects and may not affect every user of this product.
That said; none of the ingredients in Foligrowth have been flagged or banned as unsuitable for human use.
Related
Advantages
The following are the benefits you should expect to enjoy when you buy this product.
The supplement is easy to administer since it comes in capsule form.
Can help you grow longer hair.
May reverse hair loss and stops hair from thinning.
Contains antioxidants, minerals, and vitamins, which are not only good for your hair but your overall health as well.
Downsides
As you can imagine, this supplement has a few drawbacks to it including:
Contains rice flour, which may cause allergic reactions in some people.
Requires you to commit yourself to taking three capsules daily.
May cause side effects such as constipation, nausea, and headache.
About the Manufacturer
This supplement is the work of a company known as Advanced Trichology, which was established in 2002 with the aim of creating effective hair-loss treatments.
What we love most about them is that they exclusively use herbal ingredients to manufacture their products. This makes the products safe to use for the most part.
Final Thoughts
Hair loss is a problem; we cannot deny that. However, there is no reason why you should let that tamper with your self-esteem.
The Foligrowth supplement has the potential to restore your vitamin balance and support the growth of healthy hair.
However, if you're facing clear signs of hair thinning, you might want to instead try a stronger supplement.
And in this case, we have identified Folexin as a better alternative all thanks to its good combination of ingredients.