Hair loss is something that can mess up your self-esteem but that does not have to be the case because there are different ways of addressing the issue.
Natural hair loss solutions have been gaining popularity over the last few years so you do not have to watch your hair fall out.
One of these remedies is burdock root oil. It is rich in potassium, iron, and essential fatty acids that will help your hair grow out.
Besides that, this oil can help reduce scalp irritation as well as a few other health issues. Read on to find out more about this amazing oil.
What is Burdock Root Oil?
Just as the name suggests, Burdock oil is extracted from the roots and leaves of the burdock plant. The plant features small spherical burrs, purple flowers, and large leaves.
Of course, the roots are used for medicinal and cosmetic purposes. In respect to our topic today, perhaps it will interest you to know that burdock root oil plays a major role in treating the scalp and promoting hair growth in America and Europe.
Uses of Burdock Root Oil
Burdock root oil is used for different cosmetic and medicinal purposes but today, we are focusing on its benefits for hair loss.
In that regard, you want to know that this oil offers nutrition to the scalp and nourishes hair follicles deeply to promote hair growth.
Besides that, burdock oil helps in preventing dandruff by restoring sebaceous glands and hair follicles. The oil comes with many benefits for hair loss and that is why it is even added to shampoos in places like Japan.
Composition of Burdock Root Oil
The burdock plant comprises a number of components with its leaves and roots being the major source of the oil.
The components in the oil include:
Caffecic acid derivatives
Phytosterols
Alkaloids
Mucilage
Polyacetylenes
Tannins
Glycosides
On the other hand, burdock seeds contain vitamins B2 and A as well as essential fatty acids.
Benefits of Burdock Root Oil
Burdock root oil helps in nourishing the scalp and ultimately strengthening hair. This is because it is rich in essential fatty acids and vitamin A.
These two ingredients work together to support normal functioning of hair follicles and sebaceous glands.
Another thing that this oil does is help in alleviating irritation and scalp infections caused by dryness. It helps to reduce redness, itching, as well as promoting hair growth.
How to Use Burdock Root for Hair Growth
Now that you know the basics about burdock oil, it is time to learn a recipe that will help you obtain all the goodness that this oil has to offer.
What you're require…
Burdock root
Vegetable oil
An airtight glass jar
A mortar
Knife
Pestle
Piece of cloth or sieve
How to Prepare
The process of preparing burdock root oil is not a complex one. Just see for yourself below.
Step 1
Take your burdock roots and chop them finely to make pounding easier. Once you have done that, transfer your chopped pieces into a mortar and pound with the pestle.
Step 2
After doing that, put the now pounded roots and add the vegetable oil. You want to put the jar in a dark place or in the fridge if you used fresh burdock roots.
Step 3
Here, you will have to practice patience because you are to let the mixture sit for up to six weeks. This gives the oil time to draw all the nutrients from the roots.
Step 4
That you need to leave the mixture for six weeks does not mean you should forget about it. You want to open the jar once every week to release any air bubbles that may have formed.
Step 5
Once the six weeks are up, you want to take your jar out, strain the oil using a piece of cloth or sieve and begin using it on your hair.
Remember…
If you use fresh root, dry out for several days before adding the oil and if you use dried root, ensure that you remove any dirt before chopping.
You may also want to add birch oil, horsetail, or nettle oil to your mixture. Why? Because these ingredients are known to promote hair growth.
How to Apply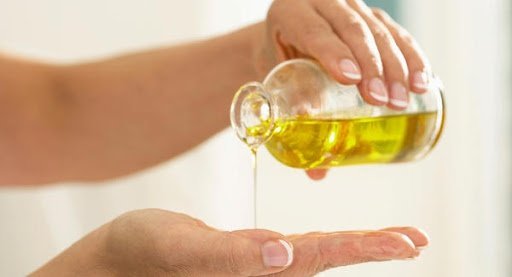 You need to apply the oil properly once it is ready for use. Here is the process.
Part your hair into four sections. This makes it easier to apply the oil and massage it into your scalp.
Pour a generous amount of the oil into your hands and start applying from your roots. You should begin from the roots because that is the problem area and that is where hair begins to grow.
Massage the oil into your scalp for about ten minutes to ensure that it is fully absorbed. Your scalp should feel heated once you are done massaging. This ensures that the oil begins working immediately.
Let the oil sit in your hair and style as usual. There is no need to wash every day because then it beats the whole purpose of applying the oil. You let it sit in your hair so that it continuously works.
Condition and shampoo once every week just to keep your hair clean and eliminate any accumulated gunk on your scalp that may prevent the oil from working.
Repeat this process regularly and consistently and you should begin to notice improvement within 12 weeks.
Related
How to Use Ginger for Hair Growth
How to Use Onion Juice for Hair Growth
How to Use Neem Oil for Hair Growth
How Does Burdock Root Oil Work
Burdock root oil can be applied directly to the scalp or added to water to be used in a spray bottle. Studies reveal that burdock oil nourishes the scalp to strengthen hair owing to its high essential fatty acids and vitamin A content.
The oil also helps in reducing scalp infections, redness, itchiness, and dandruff.
Is The Oil Safe?
Yes, the oil is mostly safe but can cause side effects when used along with other medicines or herbs. It is therefore important to consult your doctor before using.
Take note of the following.
*Burdock roots can cause harm to fetuses so nursing moms and pregnant women should stay away from it.
*Do not use the roots when dehydrated because they cause a diuretic effect that could be harmful.
*Some medications may react badly with the root so ask your doctor before using.
Conclusion
As you can see, burdock root oil comes with a host of benefits. We are also sure that you appreciate the fact that it is a natural solution hence will not be too harsh to your hair.
The oil is safe to use except for children, pregnant and nursing mothers, or persons who are under medication.
Therefore, if you do not fall under any of those categories, you can enjoy the benefits of the oil.