Viviscal is one of the most sought-after hair supplements in the world today. This is probably due to extensive marketing, its high effectiveness, or both.
However, like with any other product, Viviscal may not be the perfect pick for some. It doesn't come cheap and there are some who say it caused them to develop constipation (probably due to its high iron content).
Plus, in some cases, it might be unavailable and you simply want to find a temporary replacement for it. Or maybe you just want to try something different.
If you're looking for an alternative to Viviscal, the good news is that there are other multivitamins that share a near-similar profile to Viviscal's. Some are actually cheaper – so you want to read on to find out which ones.
1. Nutrafol
A product of Nutraceutical Wellness Inc., Nutrafol stands out as one of the hair supplements that can be used in place of Viviscal. Nutrafol comes packed with a variety of vitamins and minerals ranging from Biotin (3000mcg), Zinc (25mg), and Selenium (200mcg) to Saw Palmetto and Solubilized Keratin among others.
A monthly supply of this product will set you back some $79 if you register as a subscriber on their website or $89 if you buy it without opting-in to their subscription package. This makes it a lot more expensive than Viviscal.
If you have the resources to spend, then Nutrafol can be a good replacement for Viviscal especially given that it is free of iron (or folic acid) which is often linked to constipation.
That said, Nutrafol has its fair share of downsides, for instance, some users have complained that it left them with stomach cramps.
2. Serovital Hair Regeneres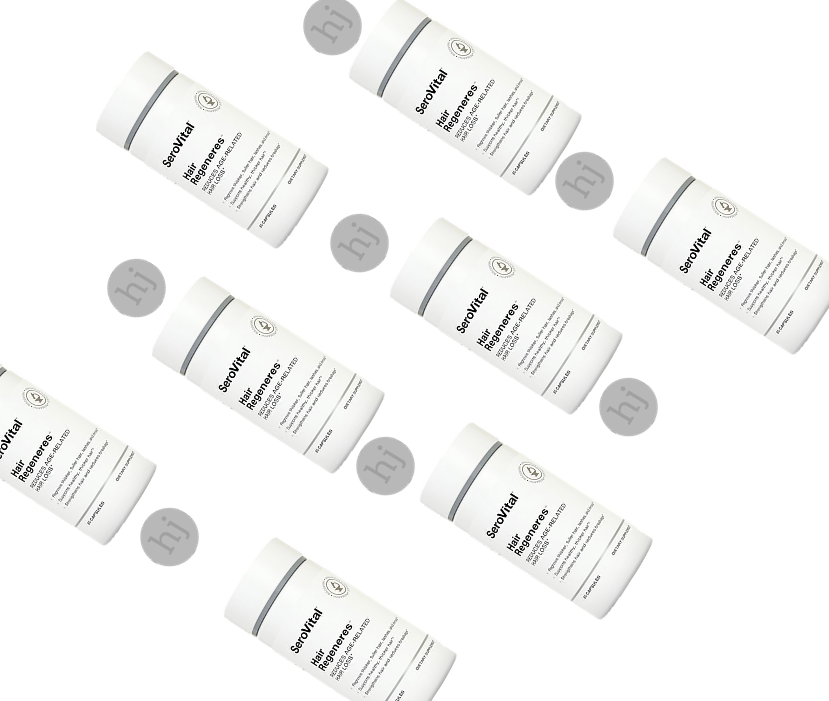 If you're looking to try something different, Serovital Hair Regeneres might be worth considering. The product comes with a list of amino acids – the idea being to boost overall growth and the production of the human growth hormone.
This product contains 300mcg of Biotin which is almost twice as much as what is found in Viviscal. But perhaps the most unique thing about it is that Serovital comes with bioactive keratin peptides. Keratin is a protein that supports the growth of hair and nails.
On its part, Viviscal comes with the patented AminoMar Marine Complex which it claims has the potential to support the growth of new cells (as well as feed the existing ones).
A monthly supply of Serovital will set you back some 49 bucks making Viviscal the slightly cheaper of the two. So, it's a good Viviscal dupe but not necessarily a cheaper one.
3. Foligrowth
This is yet another over-the-counter product one can consider as a substitute for Viviscal. With a monthly supply of it retailing at roughly $40, it is only slightly more expensive than Viviscal which goes for $33.
Foligrowth features a wide list of ingredients among them Biotin (500mcg), Selenium (100mcg), and Iodine (150mcg). Just like Viviscal, it contains 10 milligrams of iron. This information is worth keeping in mind especially if you've experienced constipation from using Viviscal or other iron-rich products before.
The product is produced by an American company going by the name Advanced Trichology.
4. Propidren
Featuring a combination of Biotin and Saw Palmetto, Propriden has ingredients that make it worth considering in the quest for a Viviscal substitute. Produced in the US, the product retails at $40 for a monthly supply making it slightly pricier than Viviscal.
Iron is still a major feature of both multivitamins with Viviscal coming with 10mg and Propidren 25mg. As such, if you have issues with products with high iron content, Propidren might not necessarily be a better replacement for Viviscal.
But if all you're searching for is something different to try, Propidren is worth experimenting with. After all, we're all built differently and who knows, this might just be the missing piece of the puzzle you've been looking for.
The product is distributed by Hairgenics. A company that operates out of Las Vegas, Nevada.
Final Thoughts on Viviscal Alternatives
Overall, although Viviscal is a fantastic product with widespread popularity a few of its dupes (though not cheaper) do exist. Nutrafol is particularly well-known and the fact that it is backed by a clinical trial makes it an option worth pondering. Serovital is yet another top-quality product from a reputable manufacturer that you can consider.
The others mentioned are also strong candidates. So, depending on what's making you ditch Viviscal, you might want to look at them too, to see what they have in store for you.