Is, your hair is thinning? Or is it falling out in huge chunks? Whatever it is, we can bet you are here because you want a lasting solution to stop all that.
We can understand if you are freaking out because a balding head or weak hair is not something that most of us would like to experience.
Have you also tried numerous hair treatments and supplements that did not work? We think you did so before you give up and resort to wearing a wig or just flaunting your baldhead, please go through this review to find out if the DasGro hair supplement is the solution, you have been searching for.
Quick Facts
Product: DasGro Hair Formula
Manufacturer: PRN Nutrition
Country: Made in USA (AK)
Sit back as we dissect this product and help you decide whether it is worth buying or not.
DasGro Overview: Our Review
DasGro is a hair supplement that is owned and distributed by a company known as Pure Results Nutrition, based in Alaska.
Now this product comes in tablet form and not capsules like most similar supplements. Did you catch that?
Normally, tablets are not as easy to swallow compared to capsules. Besides, tablets are likely to leave an unpleasant aftertaste in the mouth even after swallowing.
That can play a huge part in your decision to discontinue the use of this supplement.
That said; this product claims to restore, strengthen, and repair your hair follicles so that you can achieve healthy hair naturally.
How it Works
As we previously mentioned, this supplement comes in tablet form so it is not something you apply on your scalp or hair.
Therefore, the way it is supposed to work is from the inside out to prevent your hair from falling out or thinning.
It comprises a blend of powerful ingredients that are designed to combat balding and alopecia.
You may have come across claims that this product contains all-natural ingredients but that nothing but misleading information that has previously been used as a marketing campaign.
What it Includes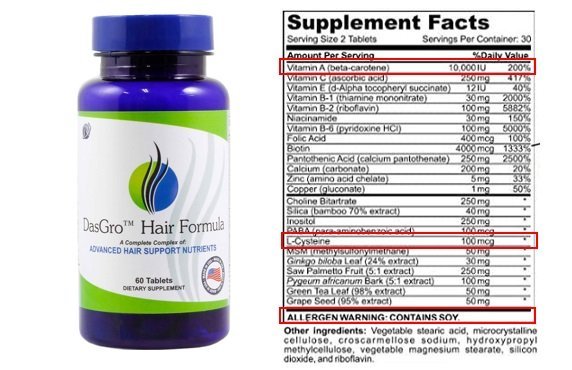 DasGro is a hair growth formula that contains 24 ingredients.
We begin the ingredient list with Biotin, which is believed to improve the infrastructure of keratin in your hair. Of course, this is beneficial because keratin contributes to the makeup of hair.
The only issue we have here is that there is too much of Biotin in this supplement because it contains 4000mcg instead of the recommended daily intake of 300mcg. Overdosing on biotin may cause your skin to breakout and you do not want that right?
Moving on swiftly, you'll find Saw Palmetto an ingredient that is hypothesized to be a DHT blocker. DHT is a hormone that causes hair loss especially as you age.
This ingredient is supposed to make your hair grow thicker and strengthen it.
On top of that, the product contains Bamboo Extract which as you might be aware, is a rich source of silica. Another ingredient of interest is PABA, which is believed to protect your hair from the harmful rays of the sun.
What's More…
There is also MSM, a compound that is rich in sulfur and believed to strengthen hair and promote its growth.
We cannot leave out L-Cysteine a non-essential amino acid, which unfortunately is too much in this supplement.
According to researchers at the University of Maryland Baltimore, this can cause toxicity (ref, ref).
That said; it is worth nothing that L-Cysteine is believed to slow down hair loss.
Another key ingredient in this product is vitamin A, but its content is too high because it contains 10000mcg instead of the recommended 900mcg daily intake. That right there is a headache for you-literally.
However, this vitamin is known to stimulate the production of sebum to moisturize your hair and ultimately prevent breakage.
Other ingredients include:
*Vitamin B-2, B-1, E, and C
*Grape seed
*Green tea
*Gingko Biloba
*Folic acid
*Zinc
*Pantothenic acid
*Copper
Advantages
When you purchase this hair supplement, you are going to enjoy several benefits including:
It strengthens your existing hair and encourages its growth
Comes with a 90-day money back guarantee
Suitable for all kinds of hair
Can be used by both genders
Suitable for vegetarians
Preservative, yeast, starch, and gluten free
Drawbacks
Although DasGro is a great product, it does have a few drawbacks that include:
The ingredients are not 100% natural
Salesy language on sales copies
Product can only be purchased online
Side Effects
DasGro is generally safe for human consumption because it mostly comprises of natural ingredients.
However, if you have a pre-existing medical issue, or are taking medicine you should get clearance from your doctor first.
Children under the age of 18, nursing mothers, or pregnant women should also desist from taking the supplement as it may cause harm.
You also want to scrutinize the ingredient list of the product to verify that none of its components will cause an allergic reaction.
Where to Buy
We have already mentioned that DasGro can only be accessed online. You can buy from the product's official website or from online sellers like Amazon.
You simply pay for the supplement and wait for it to be delivered to your preferred address. Talk about convenience!
Final Thoughts
Going through online reviews, we are inclined to think that DasGro is a viable hair growth supplement because there are quite a few positive ones.
However, we are concerned that the company that produces this supplement uses salesy language for it (some people may find some of their claims misleading).
Besides, results may vary from person to person when using this supplement because our bodies are not the same.
What we loved most about this product is that it comes with a 90-day money back guarantee. This gives you time to try the supplement so that if it fails to impress, you can claim a refund.
Our Take: The supplement is worth trying but do not expect too much from it. If you're looking for more bang for your bucks, you might want to take a look at what our #1 recommended supplement has to offer (see full review).