Many people struggle with hair loss. If you are in the same predicament, then you know that thinning hair or baldness can take a toll on your self-esteem.
Of course, there are numerous products in the market that promise to help you counter the same. The biggest question however would be – do they work?
You may have stumbled upon Regenix and you are probably wondering if it will be worth investing in. Well, in this review, we are going to cover everything you need to know about the product so that you can make an informed choice as far as purchasing it.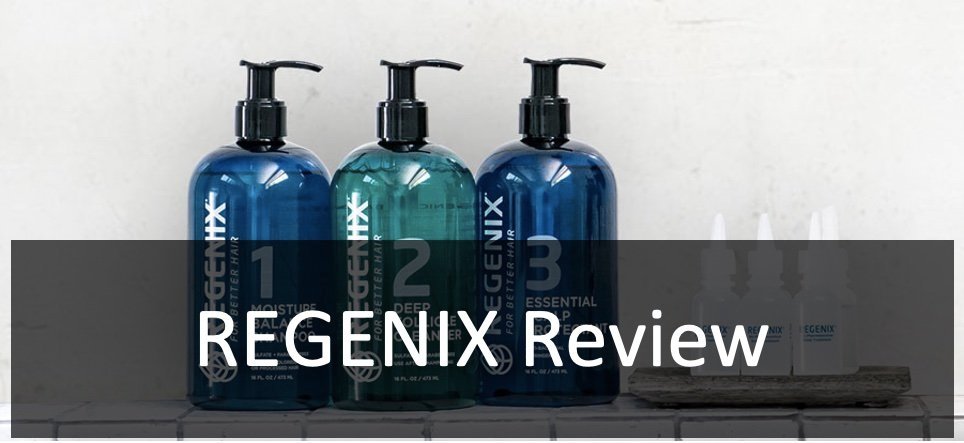 What Is Regenix?
Regenix is a multi-stage hair growth support product. According to the manufacturer, the treatment contains naturally derived ingredients that are to be applied topically to the scalp.
Now, you can choose to take the treatment at the product's clinic in Los Angeles or the comfort of your home.
The treatment takes place in stages with the first one involving a starter kit that works to condition your scalp and strengthening the hair that you already have.
After this stage, a team from the Regenix company will recommend a regimen based on the results obtained after using the starter kit.
If you are a man and your hair loss is related to DHT, for instance, you will be required to use a combination of vitamin B and Saw Palmetto.
On the other hand, you will get a hair growth supplement if your hair loss is associated with lifestyle and dietary issues. This mostly applies to women who often get a bottle-full of iron pills along with B vitamins.
Let's get deeper into the stages, shall we?
Regenix Starter Kit
Here, you get a month's supply of treatment in the form of 12 vials as well as a dedicated hair specialist. You will also get your hair analyzed and a report created.
For your hair therapy, you get a shampoo, a follicle cleanser, and a scalp protectant. Along with that, you get detailed instructions on how to apply the treatment. You will be required to use one bottle three times a week.
This starter kit should last three months.
Saw Palmetto Complex (stage 2)
This is a herbal supplement designed to help men as far as inhibiting the production of the DHT hormone in the body as it is known to cause balding.
You may also want to note that Saw Palmetto is thought to prevent potential prostate issues. This product comes in a 45 day supply.
Iron Supplement (stage 2)
Did you know that the buildup of sebum in the hair follicles inhibits nutrient absorption? This is not good.
Are you also aware that iron deficiency is linked to hair loss? This is even backed up by studies. This supplement will help increase iron levels in the body for healthy hair growth.
Other products in the line-up include: B complex, Amino acids, hair spray, styling gel, deep follicle cleanser, and keratin damage control among others.
Ingredients
Regenix does not list its ingredients upfront but the company does claim that its treatments contain natural ingredients and that they are FDA-approved.
How Does It Work?
Like we had mentioned earlier, you can undergo Regenix treatments at the clinic or receive a customized program instantly to use at home.
If you opt for the latter, you will be required to send samples of your hair to the clinic every three months. After assessing your hair, the specialists at the Regenix hair clinic will give you a way forward in respect to the formulas you need to use as you progress in the treatment.
Now, you can send your hair samples before or after using the starter kit. The best part is that you will not have to use the treatment for the rest of your life. You can phase the program out as long as you occasionally use it to avoid recurrence of hair loss.
Regenix Pricing
The Regenix starter kit goes for $199 for a 30-day supply (12 bottles) of the company's hair loss formula along with an assortment of hygiene products.
After that, you can advance to stages 2 and 3. If you prepay for the two stages, you get a discount depending on the number of pre-paid treatments. If not, the cost for every treatment bottle goes for $31. You see, when you prepay, the cost can go for as low as $11.
Once you are done with that stage, you get into the maintenance stage that can cost you as low as $20 a month.
Note that Regenix does not have an insurance cover so whether you choose the home or clinic treatment, the price will be the same.
Pros
This product comes with several benefits. Let us go through some of them.
It is thought to prevent hair loss
The treatment promotes the growth of voluminous and healthy hair
Contains all natural ingredients hence minimal side effects
Nourishes the hair with useful ingredients
Can be used by both men and women
You don't have to use the treatment forever. It can be phased out
Cons
Just as it comes with benefits, Regenix also has shortcomings albeit a few.
(1) The manufacturer does not disclose the ingredients used in the formula
(2) Some users have complained that the treatment is too pricey
(3) The starter kit may be useless if you already take good care of your hair
Customer Reviews
From what we gathered, Regenix attracts mixed feelings. 9% of the reviews about this product are from disappointed users who feel that it did not meet their expectations.
That said; a significant percentage of users appear to be satisfied giving the regimen a rating of 4 and above.
Regenix vs. Competitors
Regenix has all manner of competitors, let us see how it compares to some of them.
Folexin is an affordable hair health supplement that is widely believed to increase hair volume and stop losses. The product is rich in Biotin (growth booster) and Saw Palmetto (DHT-blocker) among other natural ingredients all scientifically proven to support hair growth.
A bottle of Folexin goes for as low as $18 if bought from the official website (one-off fee not a recurrent subscription). It's so far, the most competitively priced high-quality hair growth supplement we've reviewed.
Visit folexin.com
Keeps
This online-based telehealth service provider is often likened to Regenix. Why so? Because with them, you start by filling out some forms and attaching photos of your hair. The experts behind Keeps will look at the information you provide and recommend the best way forward.
A doctor will guide you on the treatment to take. The subscription cost is as much as $120 per month although that varies depending on your plan of choice.
Visit keeps.com
Nutrafol
Other than Folexin, Nutrafol is yet another all-natural supplement that closely compares to Regenix. To use the product, you are expected to fill out a questionnaire and provide details about your condition. That way, the system will automatically guide you on what to choose.
What's more, you can either opt for a subscription model or simply pay a one-off payment. A single bottle of Nutrafol (equaling one month's dosage) will cost you $88.
Visit nutrafol.com
Final Thoughts
As we come to the end of this review, one thing we want you to keep in mind is that Regenix does not claim to regrow hair on a bald scalp.
Rather, the treatment is formulated to prevent hair loss and reverse the adverse conditions that may cause the same. Simply put, the formula will help thicken your existing mane and facilitate healthy hair growth.
The treatment provides a great personalized approach to hair loss but it is slow and pricey so if you are looking for something that will deliver faster results, you may want to opt for something like Nioxin seeing as it has been awarded as the best brand for thinning hair (see how it compares to Rogaine).