Vegamour prides itself on using clinically tested, plant-based ingredients that are free from synthetic parabens and hormones. As such, their hair serums and gummies are considered to be relatively safe and effective.
However, despite that, Vegamour products have been reported to have potential side effects. So, below is a list of some of the potential side effects of Vegamour.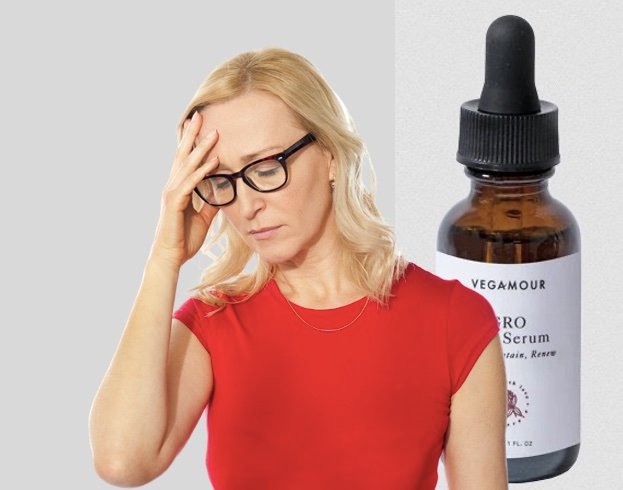 Vegamour Key Ingredients & Their Potential Negative Effects
Vegamour products are made of a wide range of plant extracts designed to increase the hair density. Overall, most of these ingredients are considered to be free from any side effects. However, for some, if taken in large doses, they may cause side effects.
Let's take a look at some of the key ingredients and their potential negative effects.
Red Clover – Rash, Scalp Irritation & Itching
Red clover has been used in traditional medicine to support hair and skin health. And when used with other ingredients, it may help reverse hair loss caused by DHT.
Note that, when taken in the right doses, it is usually well-tolerated. However, if you exceed the recommended dosage of Vegamour or you fail to use as advised, you may experience negative effects such as:
Rash
Scalp irritation
Itching
Caffeine – Mild Risk of Toxicity
Vegamour also contains caffeine to help prevent hair thinning. This is because caffeine is good at penetrating the skin barrier and getting absorbed into the bloodstream.
Currently, there are no reported common negative effects from topical applications of caffeine. That said, it is advisable to stay away from highly concentrated caffeine products to avoid caffeine toxicity.
Mung Bean – Redness, Itchiness, Hives, and Burns
This ingredient is reported to strengthen the hair follicles and minimize premature shedding. Mung beans contain several minerals, including copper, magnesium, selenium, zinc, iron, and calcium.
All of these minerals don't pose major risks. However, some people may experience an allergic reaction to copper and magnesium in the form of:
Redness
Hives
Itchiness
Burns
These risks are, however, unlikely with Vegamour as long as you use the products as advised.
Nicotiana benthamiana – Redness, Dizziness, Nausea
This ingredient is a close relative of tobacco and contains high levels of proteins. The proteins are reported to promote increased hair density and protect against inflammation.
Unfortunately, Nicotiana Benthamian does contain nicotine but in small quantities. But if you fail to use the Vegamour products as recommended, then you may experience negative effects like:
Redness or swelling
Headache
Dizziness
Nausea and vomiting
Curcuma Longa – Skin Irritation, Swelling, and Redness
This ingredient is derived from turmeric. With turmeric, it is considered to be non-toxic for both humans and animals when administered orally. As such, Curcuma Longa is also generally safe.
When applied to the scalp or hair, it is also well tolerated. However, if you are allergic to turmeric, it is advisable to consult with your doctor before using Vegamour. This is because turmeric may cause:
Skin irritation
Redness
Swelling
Vegamour Potential Side Effects via Anecdotal Evidence
According to different customer reviews on Amazon, Vegamour products are not 100% free from side effects. About 7 users out of 100 reported to have experienced the following negative effects after using the hair serum:
Rash
Itchy scalp
Burning sensation
Acne
As you can see, these are the same potential side effects that we said may occur if you don't use Vegamour as advised. That said, some of these negative effects mostly occur in people with very sensitive skin or scalp.
Therefore, always make sure to talk to a physician before taking or using any new hair growth products on your scalp.