Like most supplements out there, Nutrafol also claims that it is made with potent natural ingredients. According to the manufacturer, this product is formulated using medical-grade plant extracts that have been clinically tested for superior performance.
But is Nutrafol safe for everyone, including pregnant and breastfeeding women? Keep reading to find out.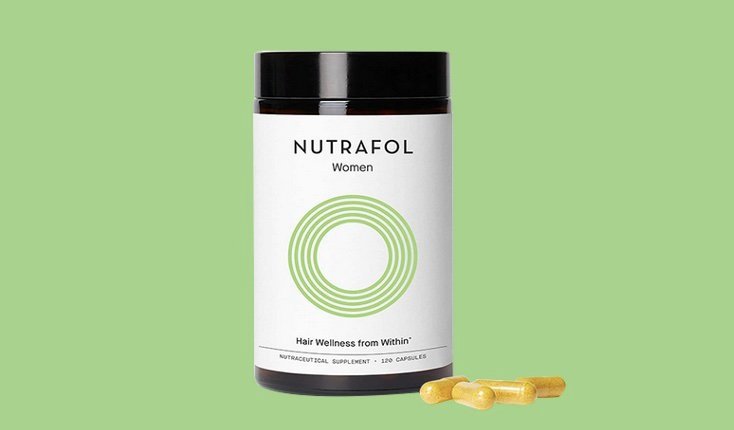 How Safe is Nutrafol, and Are There Any Side Effects?
The answer to this question is yes and no. You see, some users have reportedly experienced gastric irritation, stomach cramps, skin rashes, and nausea after taking Nutrafol.
Note that, these problems are normally self-reported (anecdotal) and are not indicative of any widespread safety issues emanating from the use of the supplement.
The good news? Taking the supplement the right way can actually resolve some of those issues. For instance, taking it with a meal, as recommended, can help reduce the risk of stomach cramps and gastric irritation.
According to experts, taking vitamins and some meds on an empty stomach can frequently upset the gastrointestinal tract. When this happens, many people usually experience stomach pains, diarrhea, and even nausea. Might this be the reason why there are so many tummy related complaints on various Nutrafol reviews? We can only speculate.
But for now, if you're planning to take those 4 large pills, you want to ensure that you have a meal ready. And it doesn't have to be a huge meal, a snack, sandwich, cookies or even a glass of milk would do.
Where is Nutrafol Made?
This product is made in an FDA-certified facility and in an environment that adheres to the cGMP practices. But just because of that, it does not mean that it is evaluated or even approved by the FDA.
The FDA only regulates prescriptions and over-the-counter drugs and not supplements. Nutrafol is a dietary supplement that is 100% drug-free.
So, as far as FDA regulations are concerned, supplements are grey area. In fact, some researchers in 2020 faulted the Administration for this – why? Well, because supplement manufacturers are not required by law to showcase the safety and efficacy of their products before selling them.
However, to counter this, most manufacturers are choosing to use independent third-party groups to check the purity and safety of their products.
For example, Nutrafol claims that its products are third-party tested for chemicals, heavy metals, pesticides, and microbiological safety. We only hope those claims are true as they're yet to publish any third-party tests on their official website.
The Verdict on Nutrafol Safety Concerns
Overall, Nutrafol seems like a safe product. This is because the manufacturer claims that it is free from artificial additives, gluten, dairy, binder, hormone, and shellfish. More so, it is drug-free and has been tested clinically.
However, the authoritative platform Medical News Today notes that people who take Nutrafol in large quantities for extended periods may experience health problems.
For instance, Selenium one of the ingredients in Nutrafol may cause hair and nail loss or brittleness at high doses (source).
Additionally, Vitamin A may cause hair loss at extreme doses. Other ingredients like saw palmetto are associated with side effects such as reduced libido, fatigue, diarrhea, and nausea if taken in large doses (source).
With that in mind, if you are pregnant or even breastfeeding, it is advisable to keep off this product completely. Most natural supplements are not safe for such individuals.
That said, while Nutrafol looks like a safe product, we highly recommend consulting your doctor before taking it. Also, you must stick to the recommended dosage always. You can learn more about this supplement in this detailed review article.