Are you struggling with stunted hair growth or hair loss? That can be really frustrating and it's even worse when you invest in expensive products that don't seem to work.
Introducing Fenugreek seeds also referred to as methi seeds. These seeds are high in vitamins, iron, and protein which play a huge role in promoting hair growth and preventing hair loss.
You can grind the seeds into a powder or soak them in water to create a paste for your hair. You might have read different reviews touting the benefits of these seeds already and not it's time to learn how to put them to use.
Fenugreek Hair Mask: How to Make (Method 1)
For this method you will need:
A bowl or jar
Olive or coconut oil
Fenugreek seeds
A grinder
Preparation
Step 1
Put your seeds in the grinder and let them grind to a fine consistency to form a powder. If you do not have a grinder, you can always use a food processor or blender to make powder out of the seeds.
Step 2
Once you are done grinding, pour your fenugreek powder into a bowl and add a tablespoon of coconut or olive oil.
Use a spatula or spoon to stir the two ingredients until they are completely infused.
Step 3
Your mask is now ready so you can go ahead and apply it to your hair. Focus on areas where you are experiencing hair loss or thinning.
If you so wish, you can have a shower cap over your hair to generate heat.
Let the mask sit in until it is dry.
Step 4
After about fifteen minutes, you want to rinse the mask off your hair using warm water. Use a shampoo to wash your hair and follow up with conditioner.
The following video contains all the steps you need to take to make a fenugreek mask the DIY way.
How To Prepare Fenugreek Hair Mask with Yogurt (Method 2)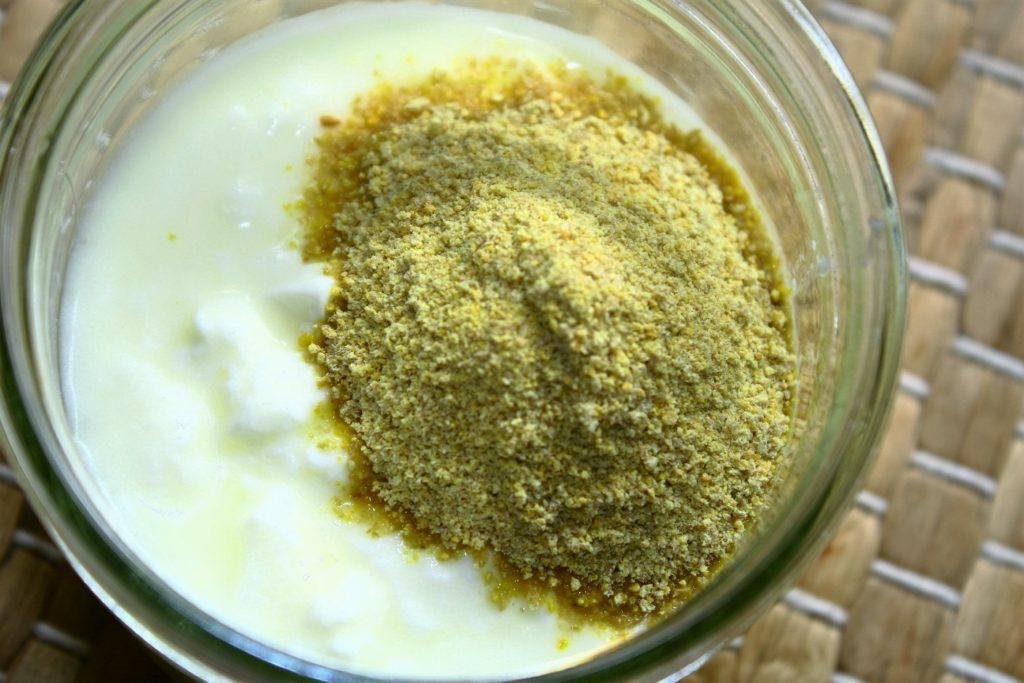 For this method you will need:
Fenugreek seeds
Plain yogurt
Olive oil
A jar
A grinder
Preparation
Step 1
Grind your fenugreek seeds in the grinder to get a fine powder. If you do not have a grinder, you can buy fenugreek powder from your local store.
Step 2
Get your bowl and add the powder, plain yogurt, and oil. Use a spoon to blend these ingredients together until they fully combine.
The amount of oil and yogurt to use depend on the length and thickness of your hair. The longer and thicker, the more ingredients you should use.
Step 3
After blending the ingredients, let the mixture sit in the bowl for up to three hours while covered. This allows the mask to thicken.
Step 4
Next, apply the mask on your scalp and hair and let it sit for about half an hour. You do not have to cover your head with a shower cap because the mask is thick and wont drip.
Step 5
After thirty minutes, rinse off your hair with warm water and proceed to wash with shampoo and conditioner.
Use this mask once every week for maximum effectiveness.
Related
How to use rice water for hair growth
Natural Minoxidil Alternatives
Preparing Lemon and Fenugreek Paste (Method 3)
For this method you will need:
A jar
Fenugreek seeds
Distilled water
A grinder
Lemon juice
Preparation
Step 1
Fill you bowl with water and add the fenugreek seeds. Allow them to soak for a day.
Step 2
After soaking the seeds, remove them from the water and put them in the grinder to create a coarse paste.
Step 3
Pour the paste you have made into a jar and mix with some lemon juice. Stir until completely blended.
Step 4
Apply the mask on your scalp and let it sit for half an hour. After that, rinse off with warm water and wash with shampoo and conditioner.
Do this once a week for best results.
Conclusion
Fenugreek is a natural remedy that has been used in India for decades to promote hair growth, treat dandruff, and remedy thinning hair.
Now that you know how to use the seeds, you can look forward to long healthy hair.