As you get older, your hair may begin to thin out, which is perfectly normal. But what happens when your hair starts to fall out at a young age?
Well, it could be because of an underlying condition that you have, genetics, or even your bad lifestyle habits.
But there is no need to worry so much because most cases of thinning hair may be treated with hair growth supplements. Yeah, you heard that right!
Enter the Gro+ Advanced Serum, a product that claims to increase hair volume and reduce any shedding. But does it even work for all hair types? And how safe is the serum?
Read our detailed Gro+ Advanced Serum review to find what this product is all about and whether or not it is worth buying.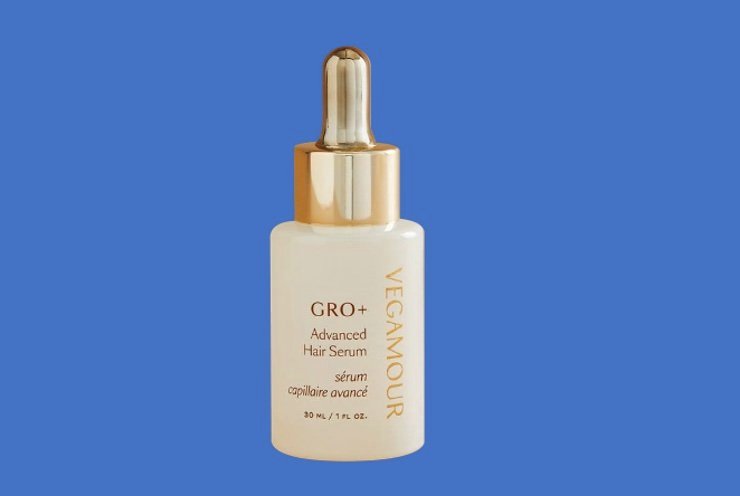 What is Gro+ Advanced Serum?
This is a hair formula manufactured to promote longer, denser, thicker, and healthier hair. The serum is formulated by a company called Vegamour.
Basically, Vegamour is a beauty brand that prides itself in making clinically-tested products that support hair and scalp health. Of course, besides this serum, they have other products designed to promote healthy hair.
That said, what really stands out about their Gro+ Advanced Serum is the fact that it is made with bioavailable ingredients. This simply means that when you apply the serum to your scalp, all its ingredients will be easily absorbed into the hair follicles.
On the flip side, though, all its ingredients are in proprietary blends. Therefore, it is impossible to tell the amount per serving for every ingredient.
How Different is it From Vegamour's Best-Selling Gro Hair Serum?
You probably are wondering, how different is this serum from the basic Gro Hair Serum? After all, the Gro+ Advanced Serum is formulated with the same phyto-actives present in the Gro Hair Serum.
The main difference is that the Gro+ Advanced product contains cannabidiol or CBD as one of its key ingredients. This ingredient is, however, not present in the Gro Hair Serum.
And because of this powerful ingredient, this product is also slightly expensive than the Gro hair serum.
Key Ingredients – What is Included in Gro Plus Serum?
The Gro+ Advanced Serum is made with ingredients that have been shown to reduce shedding in double-blind clinical studies. However, because the ingredients are too many, our review will focus on the key ones.
Mung Beans
Mung Beans are high in many nutrients such as selenium, zinc, folate, iron, vitamins A, B, C, and B-7 (biotin). According to researchers, most of these nutrients may help support healthy hair.
In a 2018 study (reference), deficiency in iron, zinc, and vitamin D levels are associated with conditions like alopecia aerate and telogen effluvium. Although these minerals won't increase your hair growth, they may help minimize shedding.
Cannabidiol (CBD)
CBD is one of the common active ingredients found in the Cannabis sativa plant (marijuana). Overall, CBD has powerful anti-inflammatory properties. As such, it may help soothe scalp inflammation, thereby reducing hair loss.
Gro+ Advanced serum uses Cannabidiol in the micro-encapsulated form to protect it from oxidation, evaporation, and contamination before its release is triggered. Further, the CBD molecules have been minimized to 150 nanometers for better absorption into the hair follicles.
Curcumin
This is a compound that is naturally found in turmeric or Curcuma longa. Overall, there isn't much research on Curcumin and hair growth.
However, some studies suggest that this ingredient may help counter the excess production of the DHT (dihydrotestosterone) hormone. This hormone is linked to hair loss.
Additionally, Curcumin is effective in improving hair loss caused by scalp inflammation. This is because it contains anti-inflammatory and anti-fungal properties.
Red Clover
Red Clover Extract is a natural source of a chemical compound called biochanin A. Biochanin A (BCA) is an isoflavone that has been shown to inhibit the activity of the enzyme 5-alpha reductase. This enzyme is responsible for converting testosterone into DHT, and too much of it may lead to hair fallout.
Further, the isoflavones present in red clover extract may promote hair growth by providing the hair follicles with more protein.
Where to Buy & Pricing
While Vegamour's Gro Hair Serum is available for purchase on Amazon, their Gro+ serum is not. This means the best place to buy it is on the official website.
A 30 ml bottle of this serum costs $68 for one-time purchases. However, if you opt for their monthly subscription service, you will pay $58 for a 30ml bottle. This is significantly cheaper because you also get free shipping.
Pros
Made with natural plant-based ingredients
Backed by a 100% 90-day money-back guarantee
Free from toxic chemicals, parabens, hormones, or carcinogens
Safe for daily use with no known side effects
100% vegan-friendly
It may help slow down or prevent hair thinning
Cons
Results are gradual and may take up to 3 months to show
The manufacturer does not reveal the exact dosages of the ingredients
Relatively pricey compared to other similar products
Final Word
If you are experiencing hair thinning, Gro+ Advanced Serum may be an excellent product to try out. This is because it claims to reduce shedding and even increase the hair density. However, while some individuals swear by its benefits, the serum may not work for everyone. The good thing is that Vegamour has a good return policy in case you are not completely satisfied with the serum.